Peggy's Favourite Cakes And Cookies
by Peggy Porschen which is a great book if you're into making pretty things with icing and don't mind a challenge :P
Ingredients
200g unsalted butter (Note: I use salted sometimes and it tastes fine then too)
200g caster sugar
1 egg (Note: helpful to have the egg at room temperature)
400g plain flour
Optional Flavours
(Note: I've ever actually flavoured these cookies but these are the suggestions from the book I got it from).
Vanilla cookies: Add seeds from 1 vanilla pod
Lemon cookies: Add finely grated zest of 1 lemon
Orange cookies: Add finely grated zest of 1 orange
Chocolate: Replace 50g of the flour with 50g of cocoa powder
Method1.
Cream the butter and sugar until just becoming creamy and pale- don't overbeat.
2.
Beat in the egg until well combined. Add the flour and mix until a dough forms. Gather it in a ball, wrap in cling-wrap and chill for at least an hour.
3.
Place the dough on a floured surface and knead briefly. Roll out to an even thickness.
4.
Use cookie cutters to cut out the shapes you want and using a knife put them on a tray lined with baking paper. Chill again for 30 minutes (Note: I never chill again and it seems to work out fine but including this step if you think it helps).
5.
Bake for 6-10 minutes at 180°C (356°F, gas 4) until golden brown. Leave on a wire rack to cool.
If you want to ice them wait until they're completely cool and then ice. I recommend royal icing. My favourite is Queen Royal Icing which comes in a 330g packet from the baking section of the supermarket and just requires water to work. It's especially good if you don't want to worry about raw eggs too.
Cookies I've made with this recipe and royal icing: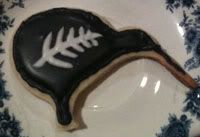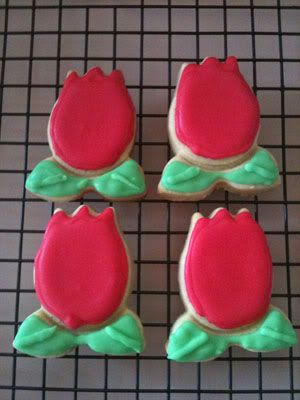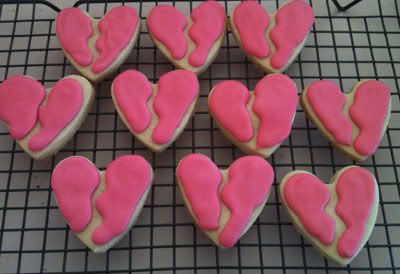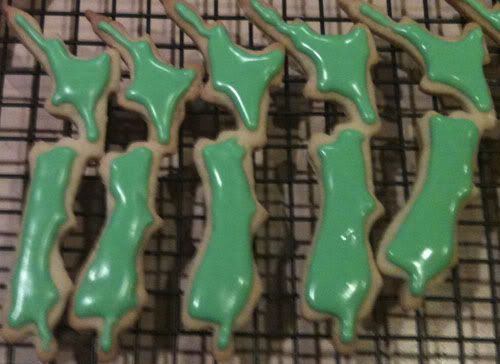 I'm going to start with a recipe I know off by heart I've made it so often: sugar cookies! I got this recipe from a book called
Current Mood:

happy